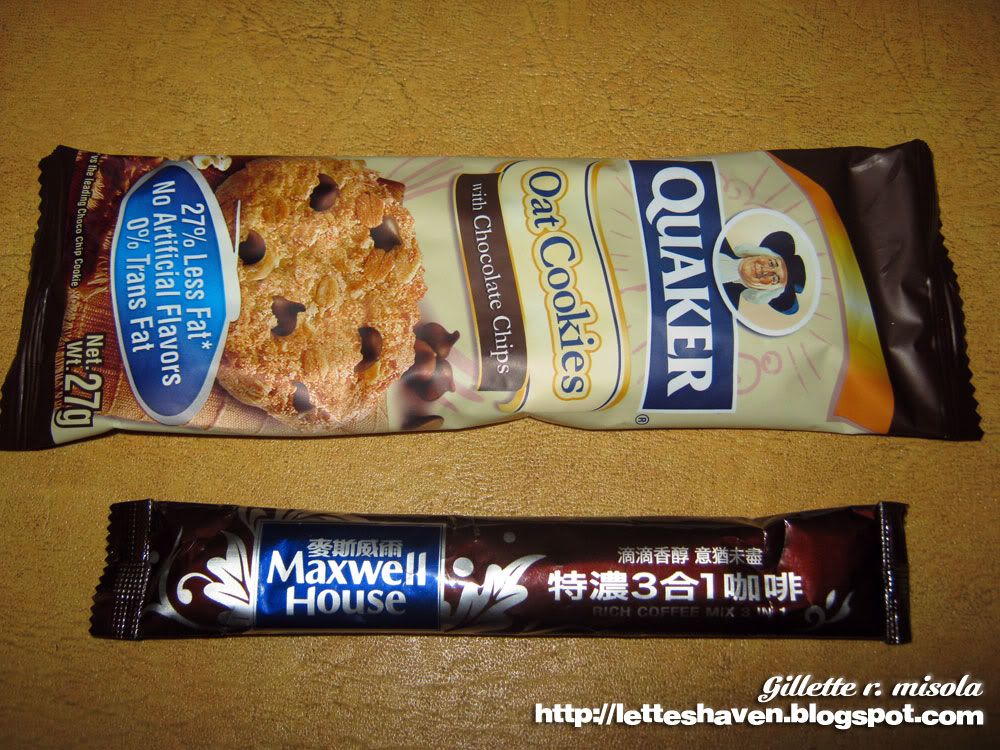 I love coffee and oatmeal... Honestly, I drink coffee almost every day and eat oatmeal five times a week. While working at home, I got hungry and want to have a quick and light snack; I searched and found this lovely deal. Maxwell House coffee and Quaker Oat Cookies with chocolate chips.
This Maxwell House coffee was given to me last Friday by my best-friend, Arcelie, her aunt came home from overseas and gave me this pasalubong. FYI, Maxwell House coffee is manufactured by Kraft Foods.
My first time to try Quaker Oat Cookies. I bought this yesterday, this pack contains 3 cookies and costs 13.00php. Product ingredients are oats, sugar, wheat flour, palm oil, chocolate chips, eggs, skim milk and this is manufactured in Malaysia.
Maxwell House Rich Coffee Mix 3 in 1 is indeed very rich and strong. It was bitter and very strong, you can hardly taste the sweetness but you'll know that it has sugar. I added 1 tablespoon of sugar because I prefer sweet coffee.
Quaker Oat Cookies with chocolate chips is very yummy! It's very sweet, chewy crunchy combination like it just came off the oven, and you can't deny that it's healthy and affordable.
This snack duo is great, I was satisfied and happy :) You can share my post or comment below! Find me on Twitter, Facebook and Email.