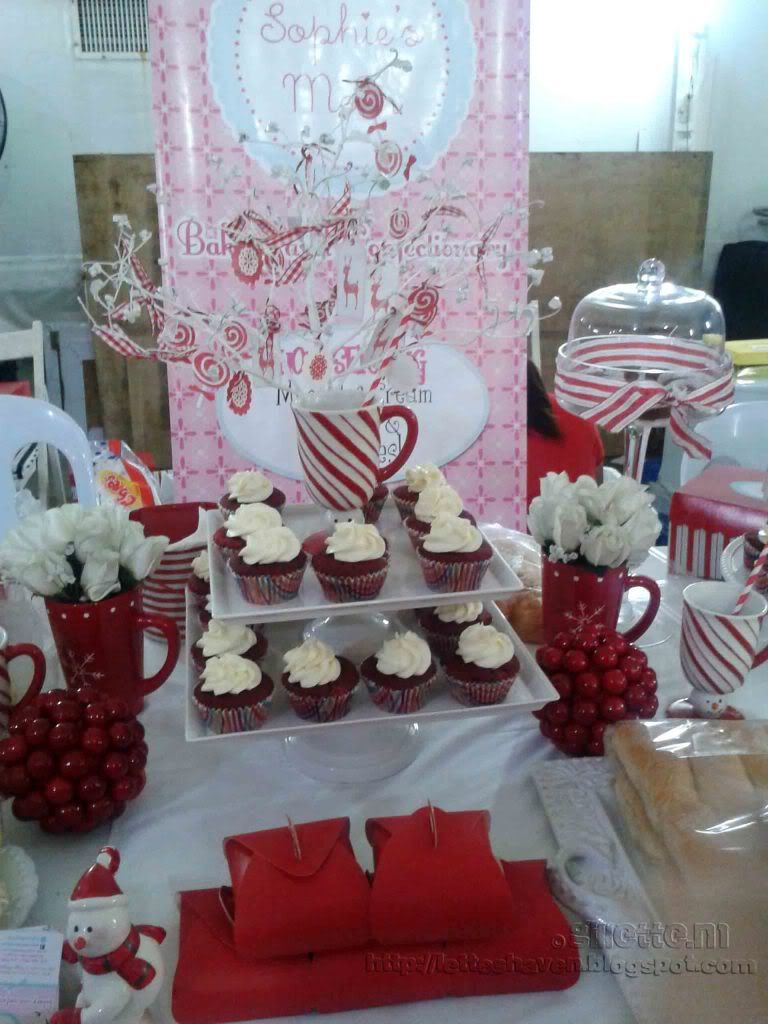 Another late post, sorry I was sick these past couple of days. Anyways, let me share to you this wonderful experience that me and my sister went through. Surely you will love this blog post because it's all about sweets and pastries by Sophie's Mom. The story begins when I won GC from Sophie's Mom courtesy of Saab Magalona's blog. They sent me the GC to my email and the mechanics on how to claim it. Sophie's Mom is located at 8760 Santol St., San Antonio Village, 1203 Makati, Philippines, it's really far from my place. I emailed Ms. Tonette Rosal if I can extend the validity of my GC and I was glad that she invited me to Port 88 Bazaar at Ortigas Center which they are featured, and I can claim my GC there.
Sophie's Mom booth at Port 88: Ready, Set, SALE! Lifestyle Bazaar is tremendously beautiful!!! The theme is Red and White Christmas, Red for their Best-Seller Red Velvet Cupcakes and White for Lemon Meringue Cupcakes. They are also selling their other Best-Sellers like Nutella Mochi Truffles and Spanish Bread, Nutella Bread, Ensaymada, Mochi Ice Cream and more.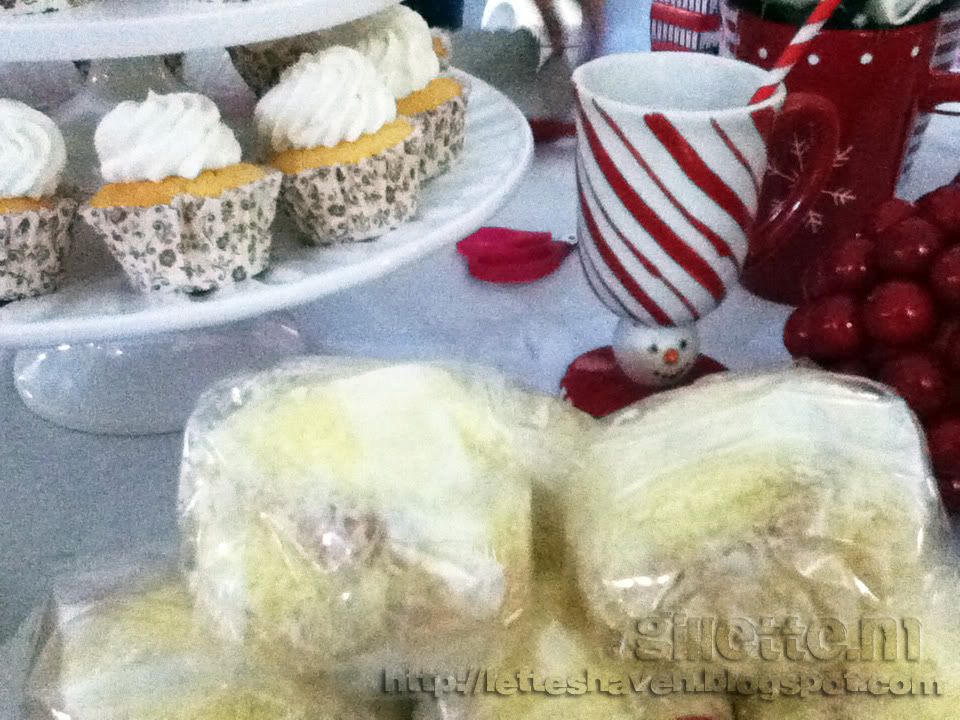 There are also other food booths or stalls at the said bazaar but Sophie's Mom got the crowds attention! And why not...? Their Mochi Ice Cream is one of a kind here in the Metro! We met Sophie the 16 year old pretty gal and her mom Ms. Tonette, too bad we haven't got a picture of them, we forgot it! Sophie and her mom is very nice and accommodating as well as their other staff. Before we claim our goodies from the GC, my sister and I bought Mochi Ice Cream, Frozen Brazo Mochi Ice Cream for me and Chocolate Mochi Ice Cream for my sister.
Chocolate Mochi Ice Cream, homemade dark chocolate ice cream, no preservatives and artificial flavoring. Mochi Ice Cream is a Japanese delicacy, it's a pounded sticky rice with ice cream filling. The sticky rice reminded me of Bilo-bilo or rice balls which is a primary ingredient in Ginataang Halo-Halo. Each Mochi Ice Cream costs 40.00php or $0.95. Mochi Ice Cream flavors are Strawberries and Cream, Lemon Meringue, Leche Flan and Vanilla Ice Cream, Rocky Road, Mangoes and Cream, Banoffee and Red Velvet.
Frozen Brazo Mochi Ice Cream, vanilla ice cream with meringue and egg yolk. Ms. Tonette personally informed us that their ice cream are all homemade and no preservatives. Yes it is homemade because we haven't tasted these kind of ice creams. I enjoyed my Frozen Brazo so much... The mochi itself is really yummy, gooey, sweet, and smooth; while the Brazo ice cream is very delicious, unique taste, creamy, luscious and delectable.
My sister just can't get enough of Mochi Ice Cream so she grab for a second one, Cookie Dough Mochi Ice Cream. It tasted like cookies and cream according to her. I will post a separate review about the other goodies that we got from Sophie's Mom.
Visit Sophie's Mom FB Page, Twitter, or Website for more info. I believe they are also open for Delivery, just call 856-4849 / 404-8165 / 212-1212. You can also visit them at 8760 Santol St., San Antonio Village, 1203 Makati, Philippines, they are open Mondays - Sundays 8am-9pm.