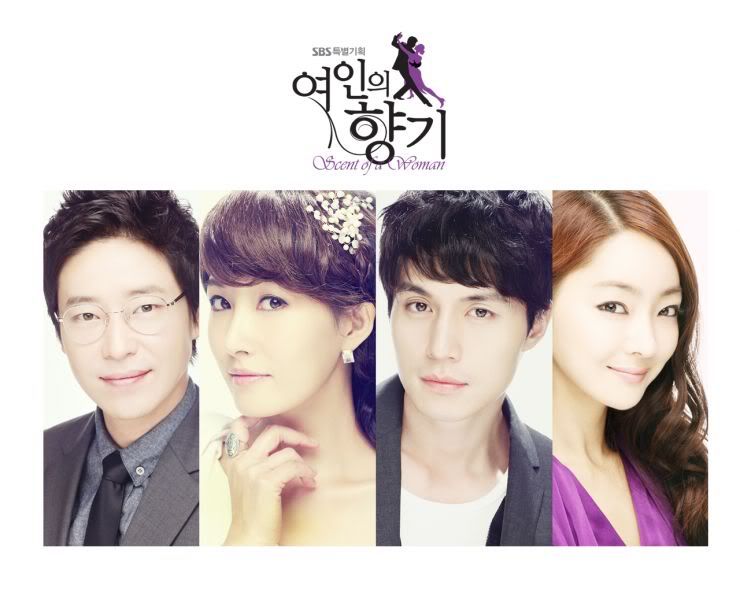 Scent of A Woman is the title of this heart-felt, romantic comedy drama. It's airing in ABS-CBN as Helena's Promise, I don't know why ABS change the drama title. Starring Kim Sun-A, a very award winning Korean Actress and known in her role in "My Name Is Kim Sam-soon" which were aired in GMA 7, Lee Dong-Wook of "My Girl" aired in ABS-CBN, Seo Hyo-Rim and Uhm Ki-Joon. It has 16 Episodes which is approximately 1 hour per episode, it was released in South Korean on July 23, 2011.
This tells about the story of a 34-year old woman
Kim Sun-A who works as a low-level clerk and makes list of 20 things she wants to do before she dies after she was diagnosed with gallbladder cancer and was given 6 months time to live.
Uhm Ki-Joon is her Oncologist doctor and childhood friend.
Her list includes travelling, dating guys, fall in love, make her mom smile everyday, wear a wedding dress, make revenge on people that makes her life miserable, make her mom re-marry, make-over, ask forgiveness to her high school professor, sing with the one she loves, try biking in the sea side, don't hold back on the things she wants like food and clothing, learn tango, close her eyes in the arms of her loved one and more. Then she meets
Lee Dong-Wook, a good-looking, intelligent and high profile business man, they accidentally meet in Japan while
Kim Sun-A is having her vacation.
Lee Dong-Wook was her boss or Director in her previous company and happens to
fallen in love with her, but unfortunately he was already engaged with
Seo Hyo-Rim.
I'm still in the process of watching this Korean series, two more episodes and it's finish! Bth the lead actors are really great, their acting is so natural. You can learn a lot of things from this drama, most especially how to value, enjoy and live life to the fullest! What will be the ending of this feel-good drama? You think Kim Sun-A will continue to live or not...? Share your thoughts and comment!