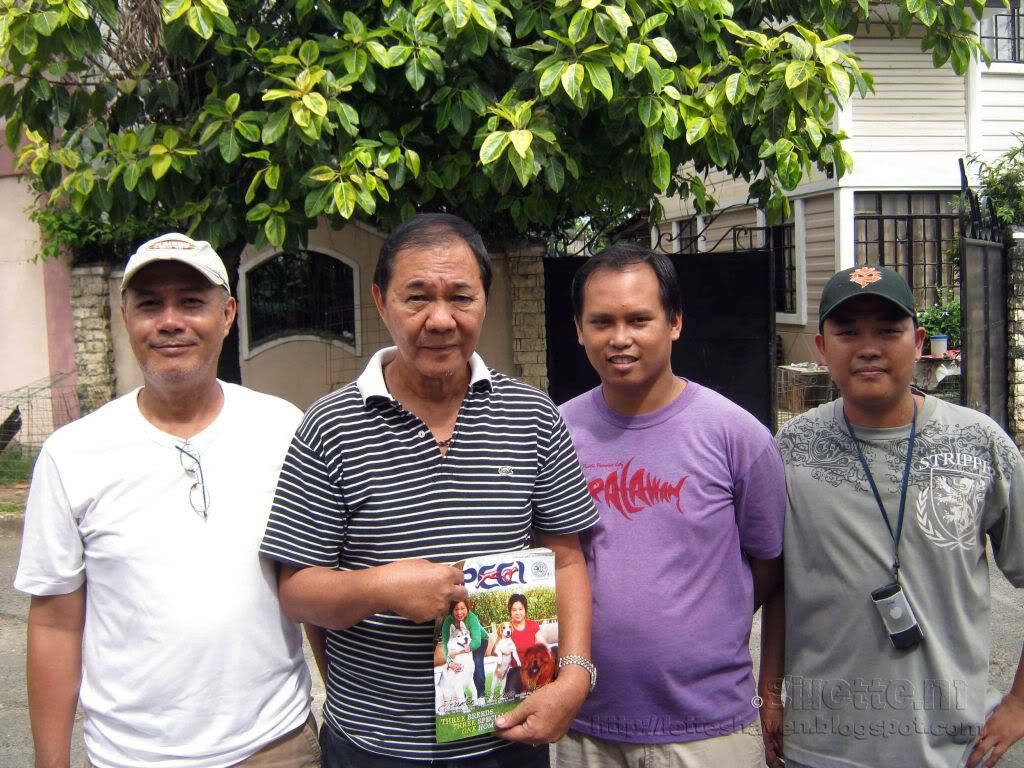 Our female Mini Pinscher had her heat cycle last week of October. My father researched for a good stud service on the internet and came up to know the owner of great quality male mini pinscher. Mr. Milo Valdes, one of the 15 Directors of The Philippine Canine Club Inc. and an International All-Breed Judge of Dog Shows. Images from left to right, my father, Mr. Milo Valdes, Mark and Joel.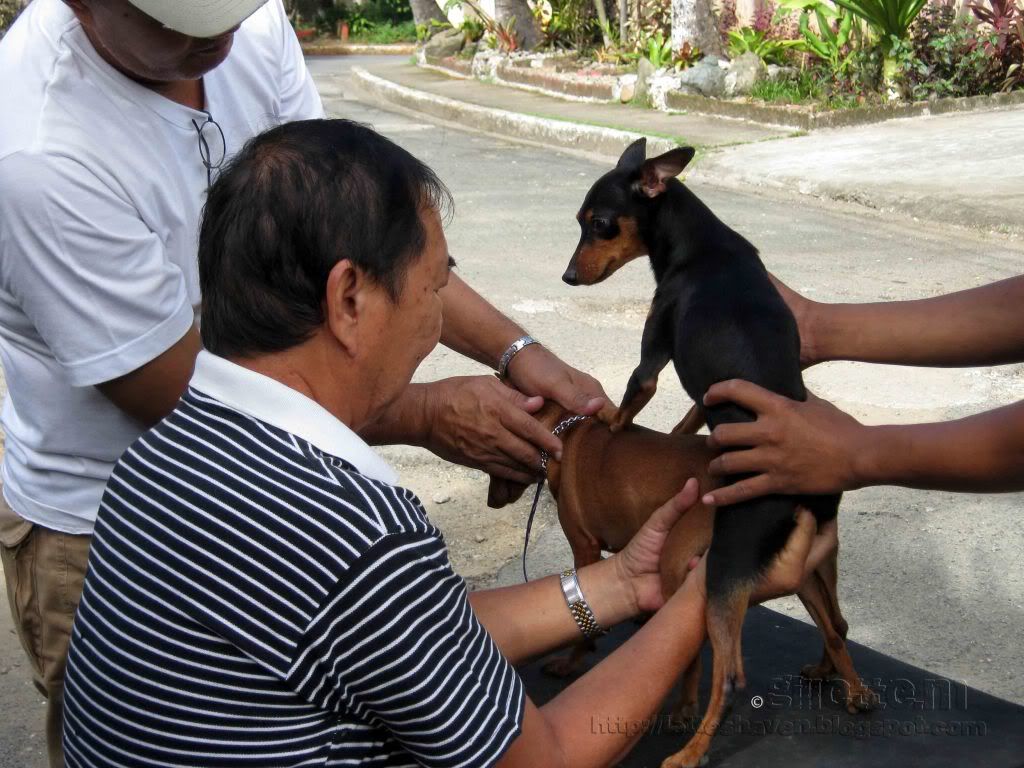 That's Xing (our red coat Mini Pinscher) and Juan (her black Mini Pin husband) hehe! Mr. Milo Valdes is very nice that he didn't require a dog shooter and he did it by himself. The stud session went nicely I don't wanna elaborate on how it is done. Here are some points on how to know when your dog is good and ready for her first stud: mark your calendar the first day you see your dog is in heat, on the 9th-13th day of from the first drop of blood of your dog is the best time for stud session, don't walk your dog while she's having her cycle, give her Vitamins such as Vitamin C and Calcium, and if you have male dogs don't let them go near your female in heat dogs.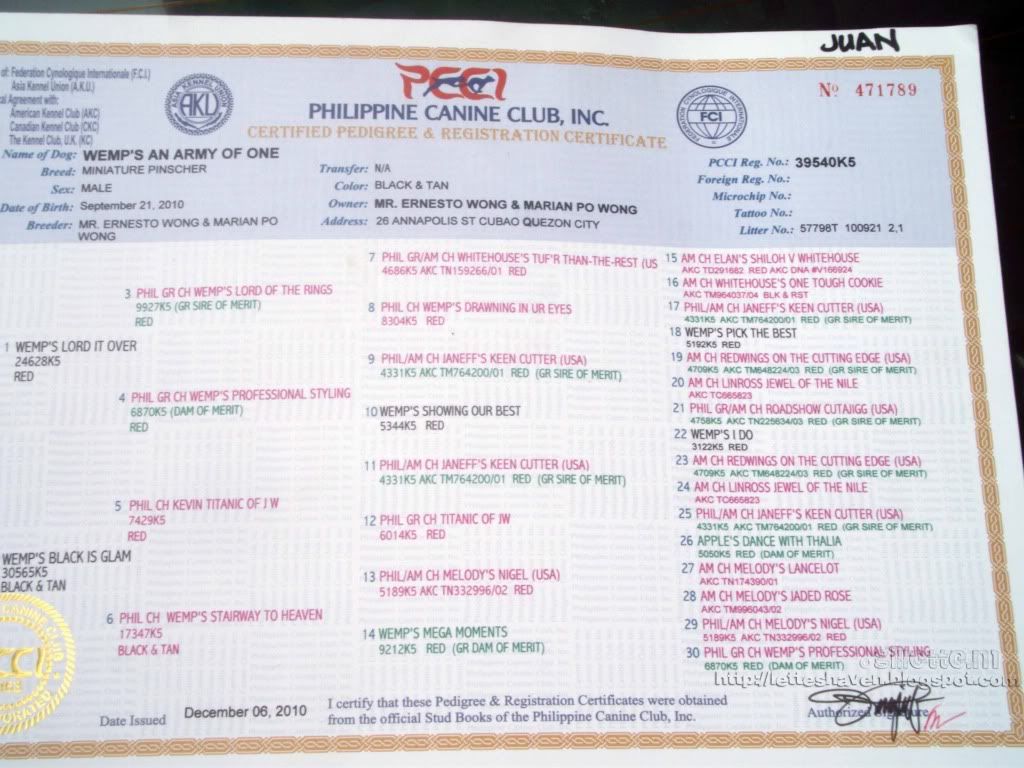 This is Juan's PCCI Registered Paper, it has lots of Red and Green Marks! Red Marks in PCCI Paper means that the dog is a champion or have won at dog shows while the Green Marks means that the dog produced champion puppies or dogs. So the more Red and Green Marks your dogs have the better because the dogs that won in dog shows is of course have a superb and great quality appearance, color, built, health, stamina and more.
Aside from being a Director and Dog Show Judge, Mr. Milo Valdes is a pet lover and breeder. The photos above are Joel and Mark together with his 2 year old Golden Retriever. I know that Mr. Valdes is selling this very beautiful, playful and charming female Golden Retriever. Mr. Valdes is very accommodating, helpful, he's not selfish in information about dogs, he shares his own experiences to us and really a good man. One time he appeared in an episode of Imbestigador (GMA 7), it's about the anomaly of fake PCCI Papers. Mr. Valdes shares us tips on many things about dogs like what shampoos, food, brand of milks, vitamins and dosage are good, PCCI registration queries, recommends nice breeders and veterinaries in the Metro and more.
Female 5 months American Cocker Spaniel also for sale. Look at her she's so cuddly and sweet!!! I want her but I can't afford it... It's a bit expensive :( it's approximately 35,000.00

php

up! Her fur is amazingly soft and smooth! Oh my if I have budget for this I will definitely buy it! I think Mr. Valdes personally love Minis Pinscher because he has a lot, approximately 10 I guess and absolutely all dogs are good quality. I recommend if you're looking for a Min Pin stud service, go to Mr. Valdes and he only charges 1,500.00

php

.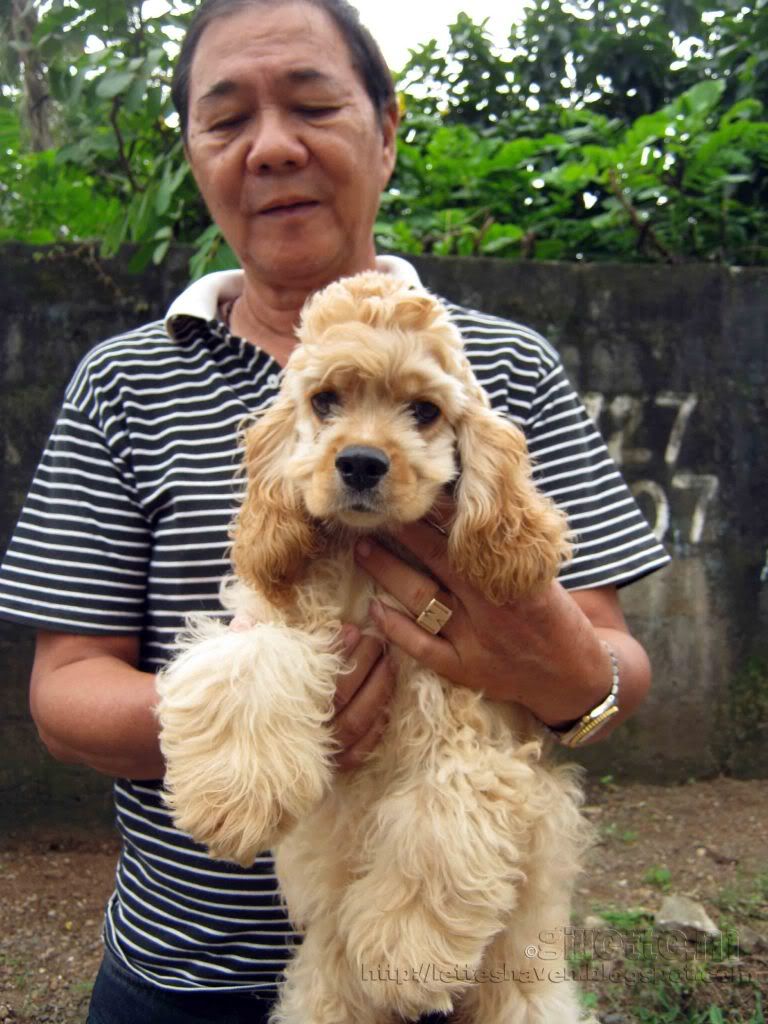 We learned a lot from our visit at Mr. Valdes' residence for Xing's stud service. Honestly our main objective which is Xing's stud is not the major joy that we had but meeting this wonderful and good man. Too bad I haven't got a picture of me and him but absolutely we'll visit him in the future!