Looking for nice bakeshop (personalized cakes, wedding, birthday and even cupcakes) within Commonwealth, Fairview and Novaliches area? Edible Ideas is just around the corner. I accompany my best-friend Arcelie going to her second cousin's own bakeshop. I'm excited to go with her to check the cakes in store. Unfortunately there's no cake display when we got there, however they got cake albums which I took picture and posted here. They have a lot of varieties, design, and styles of cakes.
Most of Edible Ideas' Cakes are fondant and they also offer very cute cupcakes. When I'm scouting for the cake designs I recognize some of the cakes are for celebrities or tv shows from ABS-CBN, I asked Ms. Avic (the bakeshop owner) if she's a constant supplier for the tv network. Edible Ideas sometimes supply for birthdays or celebrations for the tv network.
Edible Ideas office is located at G/F ATN Building, Sacred Heart Village, Novaliches, Quezon City, Philippines (across Our Lady of Fatima University-Hilltop, QC Campus). The office is righteous for visiting clients, you can walk-in any time. Ms. Avic, Bakeshop Owner and Cake Artist is absolutely nice and friendly, she answers my questions about cakes even if we're not ordering one. If you're ordering, they prefer you advise them 4-6 weeks before pick-upping the cake.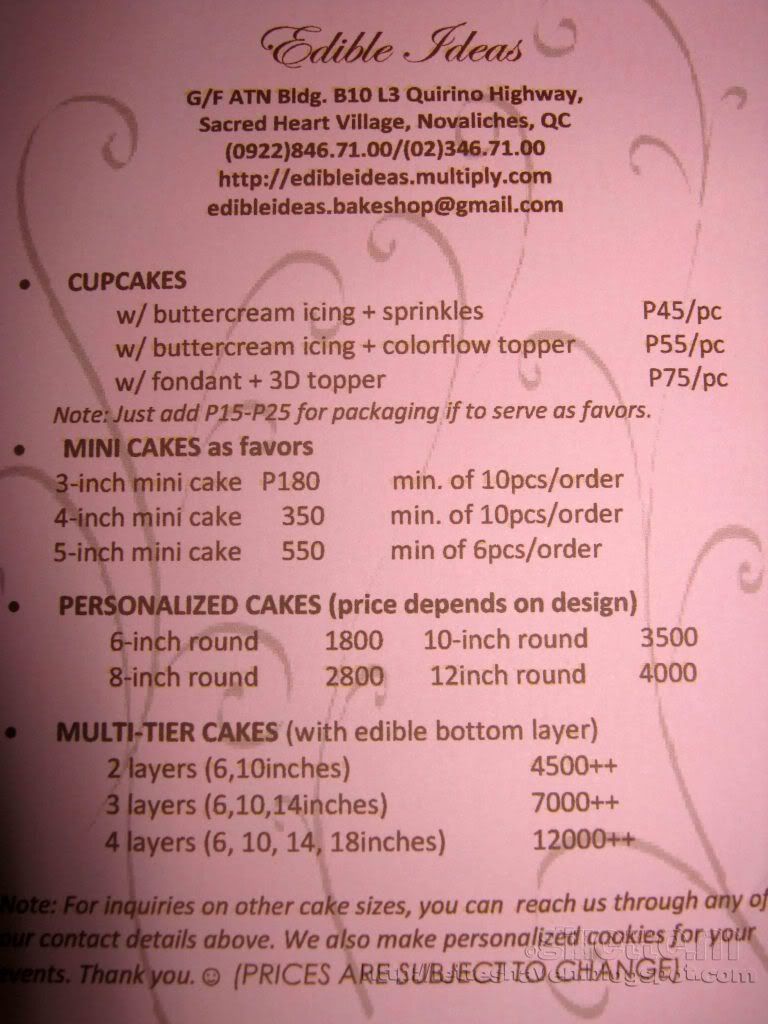 Wonder how much it cost for a 3-Layer Birthday Cake or a dozen of Cupcakes? I took a picture of their Price List, please check the above image.