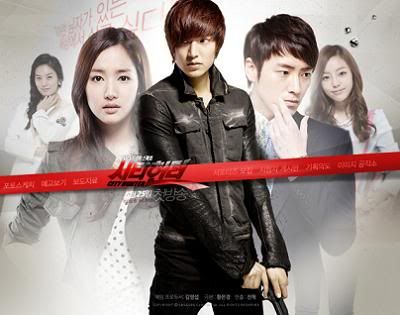 Lee Min Ho is back at Philippine TV as the City Hunter which I believe will be aired at ABS-CBN Primetime soon. City Hunter is a South Korean Action-Thriller Drama which premiered on May 2011 and is based on Japanese Manga series. Lee Min Ho is revenging for his father's killers, his identity is forged and used a dead Korean-American man which has a Doctoral Degree at M.I.T. and enter Korea's Presidential Blue House as a highly skilled staff. But as the story continues, he falls in love with Park Min Young, a presidential guard, Judo master, and has many jobs in order to support herself and her dad which is in coma. Lee Min Ho and Park Min Young met when Min Young was hired as substitute driver of Min Ho while he's conducting an investigation in a club.
Other casts are Lee Joon Hyuk,
Hwang Sun Hee, Kim Sang Joong, Goo Hara, Chun Ho Jin and many more.
Lee Joon Hyuk is
a smart prosecutor, Hwang Sun Hee's ex-boyfriend, son of one of the five officials that ordered the slaughter of 21 men, and a rival of the City Hunter but they're working the same goal; to imprison corrupt politicians.
Hwang Sun Hee is
Lee Joon Hyuk ex-girlfriend, a veterinarian by profession, friends of Lee Min Ho & Park Min Young and saved their lives once or twice during some of their operations. Kim Sang Joong is the only survivor of the slaughtered that happened 28 years ago, he wants to kill all the people who ordered their execution, he kidnapped Lee Min Ho (son of his dead best-friend and one of the men that was slaughtered) when he was a baby to raised him as his own son and an intelligent and skilled assassin. Goo Hara is the President's daughter who has a crush on Lee Min Ho, not knowing that they are siblings. Chun Ho Jin portrays as the President of South Korea, one of the five men involved in the slaughter incident but was totally against it, and the true biological father of Lee Min Ho.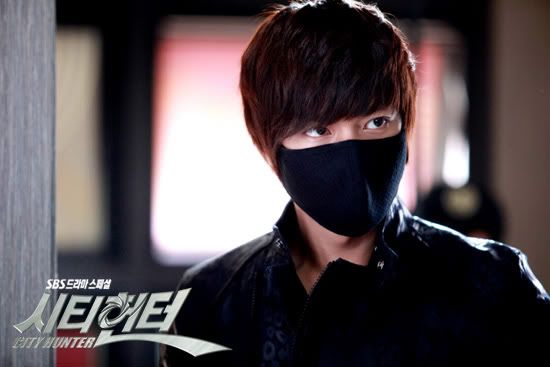 We are used to see Lee Min Ho as a romantic drama actor for his portrayals in Boys Over Flower and Personal Preference a.k.a. Personal Taste but now we can see him doing cool and marvelous action stunts!!! Like an agent, his characteristics here are mysterious, very intelligent, works quietly and smoothly,
disguises well,
observant, and well-skilled with guns and martial arts. But one thing that we can never get wrong that it is Lee Min Ho is his fashion... He's a stunning model!!! All his apparel/clothes, accessories and hairdo are perfect, sleek, gorgeous, a total beauty!!! You will love Lee Min Ho with his City Hunter face mask on!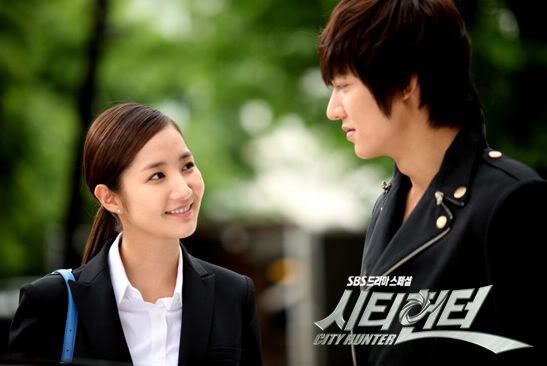 The love ingredient in this drama is not that prominent because of the revenging thing. But surely you'll still love Lee Min Ho and Park Min Young as a couple. Though the kilig and sweet moments of them together are few, the good thing is once in a while they work as partners in investigating and hunting down the 5 men that Lee Min Ho is searching, that's sweet!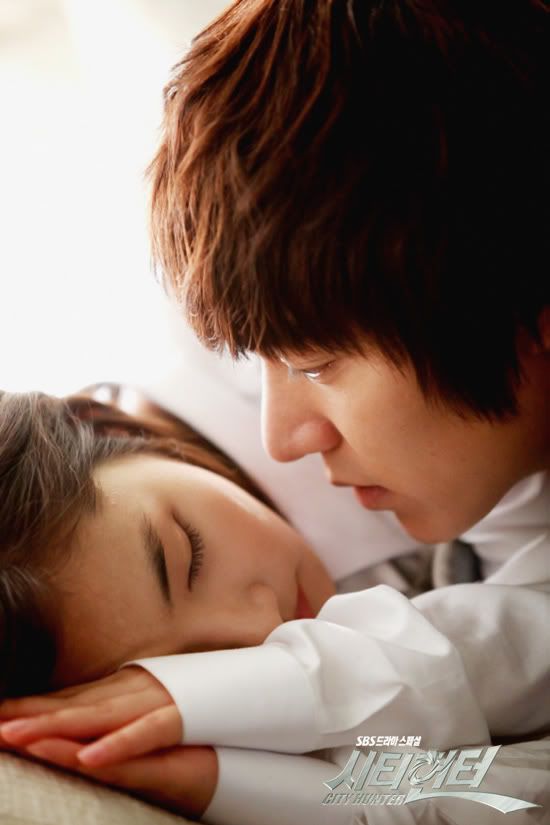 The best twist of this series is Lee Min Ho's true biological father. All his life he was aware that
Kim Sang Joong was his father but after 28 years,
Kim Sang Joong revealed that Lee Min Ho's father was his best-friend. When Lee Min Ho is hunting down the fourth men, that's when he also found out that his true biological father was
Chun Ho Jin, the current
President and the fifth men that he's hunting. Lee Min Ho's mother had an affair with the President and got pregnant before she got married to
Kim Sang Joong's best-friend.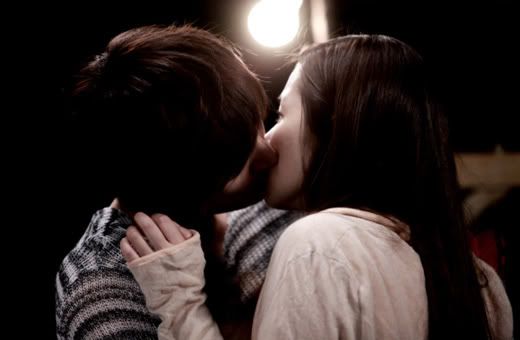 T
he ending was a whirlwind!!!
The prosecutor,
Lee Joon Hyuk died while investigating a case.
Kim Sang Joong character at the end was tremendously commendable, at first he kidnapped the President's son Lee Min Ho, lied to him so that years later he would be able to come back and kill his own father. This was the greatest revenge that Kim Sang Joong wanted, but in the end, he died protecting Lee Min Ho. He realized that Lee Min Ho was very precious to him and not his revenge, he also told that he was the City Hunter to clear Lee Min Ho from all the crimes that he get into. After the bloody scene with Lee Min Ho, Park Min Young,
Kim Sang Joong and
Chun Ho Jin, the ending seemed rushed just like with most of Korean Series. Park Min Young's father died, she leave the Blue House as a presidential guard and it's as if she was leaving the country or something. A tomb memorabilia was shown, in memory of the 21 heroes that was slaughtered. And the City Hunter, Lee Min Ho was shown driving his car with a mysterious eyes. The ending was very open-ended and it's up to the viewers how they will interpret it. Watch City Hunter and feel in love with Lee Min Ho over and over!!! =)