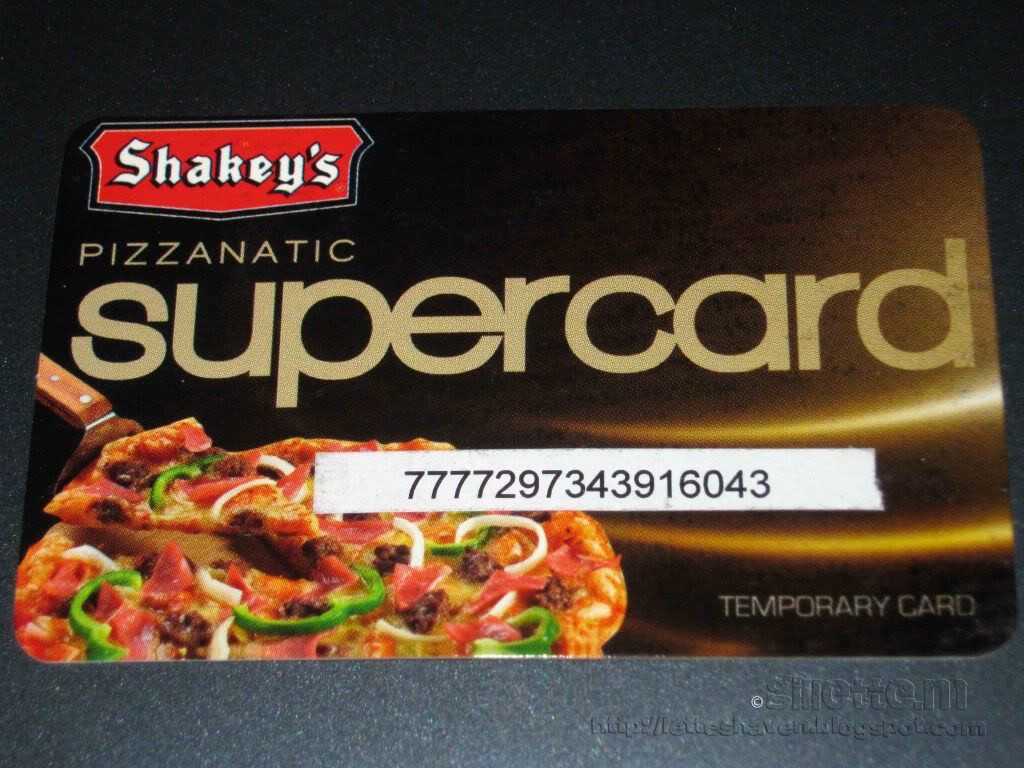 Shakey's Pizzanatic SuperCard is a discount card that we can all avail, it's Shakey's way to thank and treat their loyal customers. We just got this SuperCard last week I think when we crave for pizza and call Shakey's hotline, they offer us to avail their discount card to get a free pizza for any pizza we order. Grab this pizza discount card for only 299.00

php

and there are a lot of benefits that you can avail. When our pizza arrived, we also got our temporary card, it's just made out of paper carton. The permanent card will be delivered soon to our doorstep.
1. Free Pizza - call for delivery, get a free pizza by ordering a Large, New York Pizza or Party Size pizza (any crust, any flavor except Classic Cheese and Garlic & Cheese) with 1.5L Coke. You free pizza choices are Hawaiian Delight or Pepperoni Pizza of the same size. Maximum three paid and three free pizzas per order.
2. Dine-In and Carry Out - dining in or carry out at any Shakey's restaurant nationwide and get 10% discount on your purchase. Always present your Pizzanatic SuperCard to avail the discounts and earn points.
3. Birthday Freebie - celebrate your birthday in Shakey's and they will treat you with a Large Thin Crust Pepperoni Pizza for free just simply present your SuperCard to claim the freebie.
4. Reward Points - you must always present your card to earn points, you'll earn 1 point for every 100.00

php

Dine-In or Carry Out purchase, points maybe earned from all modes of payments including Sodexo passes and Shakey's fun certificates, you can check total points at any Shakey's and points earned maybe transferred to the new card provided it is made 30 days from the date of card expiry. You can redeem your points just present your card, points earned can be used as payment for the next Dine-In, Carry Out or Delivery transactions, points earned are not convertible to cash.
Nice benefits right...? You can always call Shakey's hotline 77-777 for any inquiry.