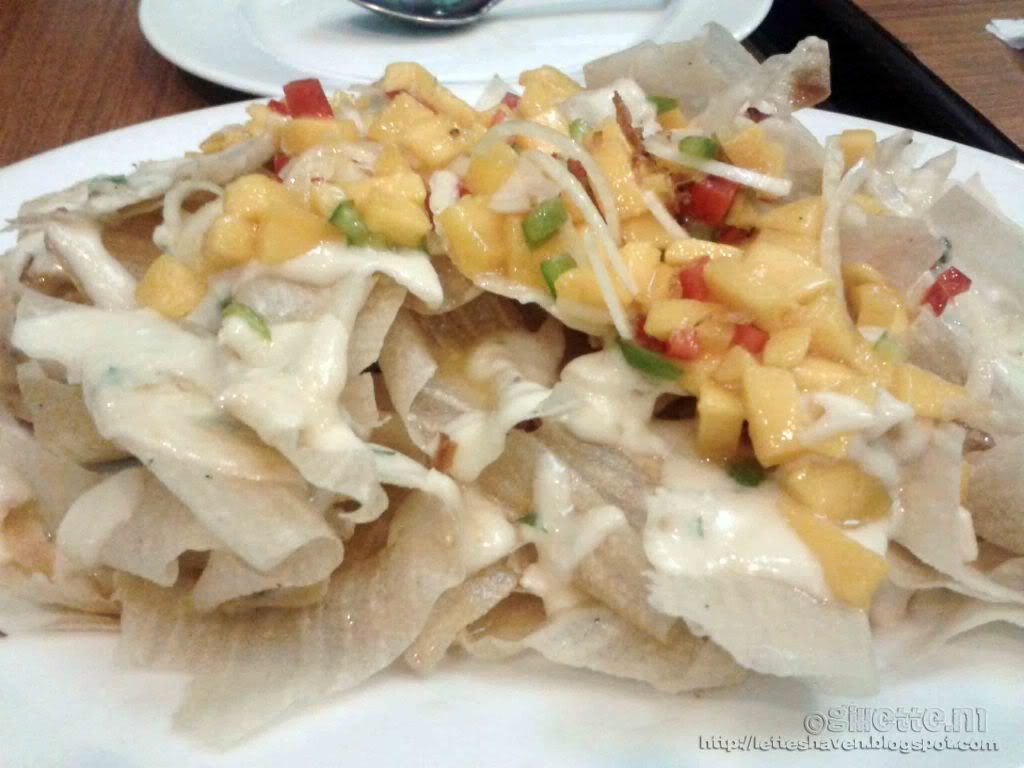 Pinoy Nachos

Pinoy Nachos... Sounds interesting! We had our dinner at Blackbeard's Seafood Island together with some friends. It's almost midnight and almost all restaurants in Araneta Center were closed, luckily Blackbeard's Seafood Island is still open.

Some of us were starving so we quickly grab the menu and order.
It took 45 minutes before our our order was served! We are really pissed about that, we kept on following up our order.We can't blame the staff because it's already midnight and as we noticed that they are only few and the place was still packed with customers.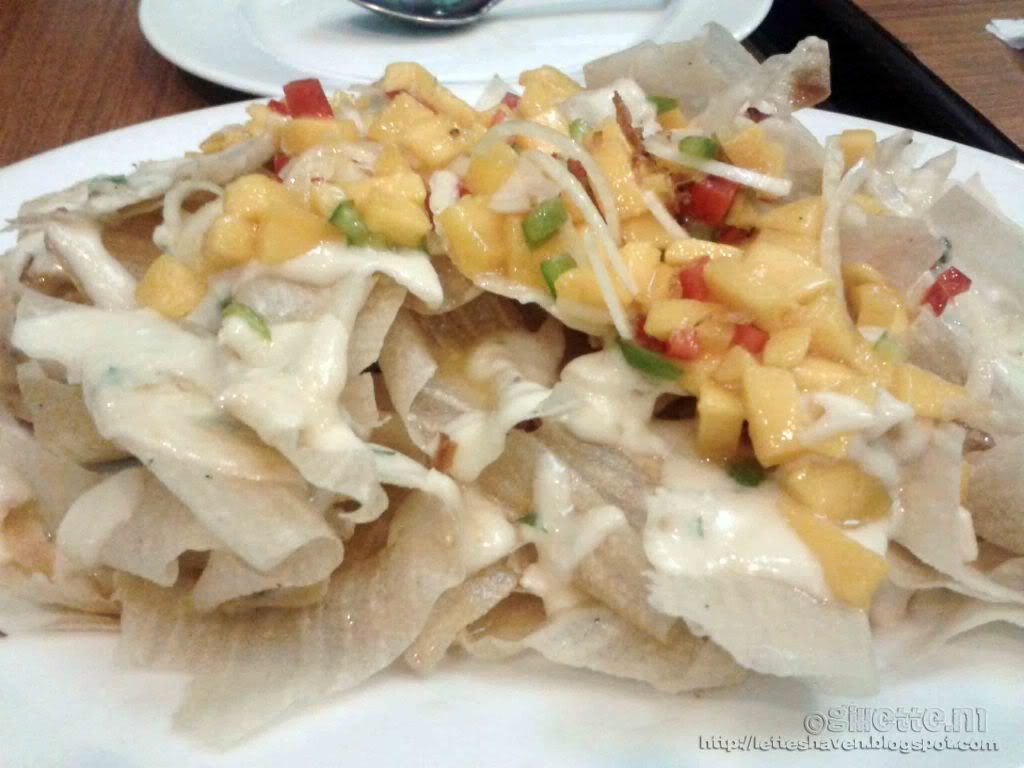 Pinoy Nachos for our appetizer, Kuya Eric suggested that we should try this out! It's not the traditional corn tortilla, it's fried dumpling wrappers (reminder me of prawn crackers) topped with sweet mangoes, onions, lots of chili peppers, guacamole and dressing. It's good, sweet, spicy and crunchy!



My steamed rice served in a banana leaf
Spicy Tuna Sisig
Chunks of tuna mixed with garlic, onions and lots of peppers!!! Wow it's flaming hot!!! The dish is fine, oh you need to look out for the peppers you might eat some, be sure to have your glass of water ready! :)
Batangas Beef Adobo
Batangas Beef Adobo taste like a fusion of regular adobo and beef pares or tapa.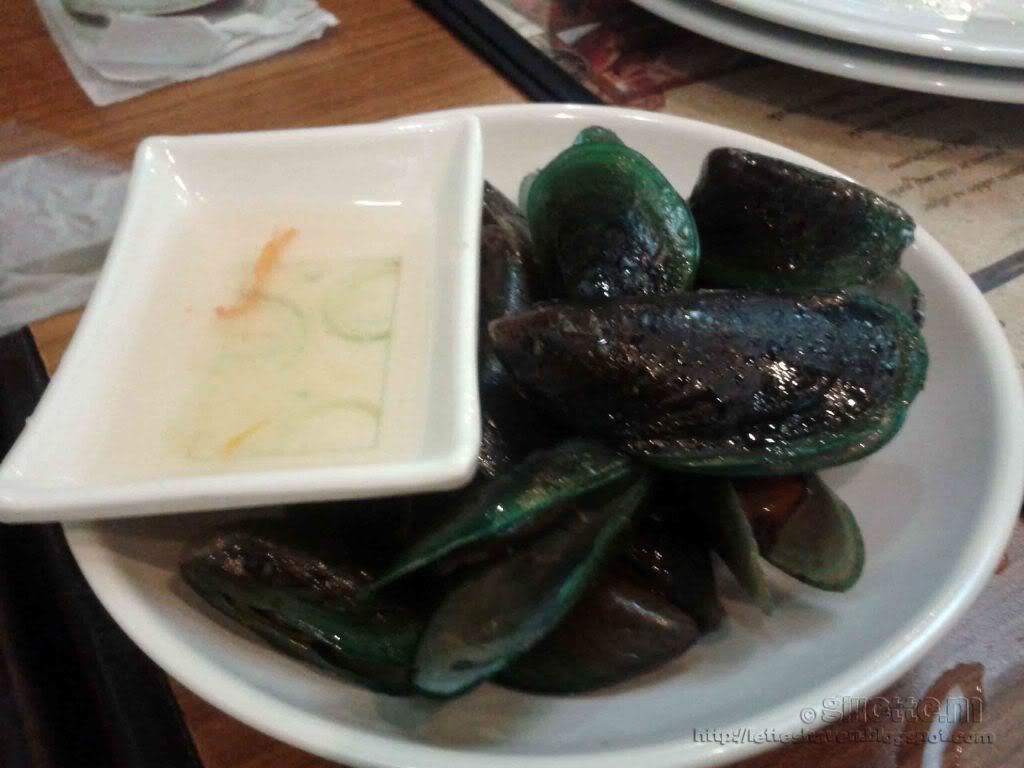 Their Grilled Mussels is not so yummy, it's a bit malansa and the mussels are small. However I ate a lot because mussel is my favorite :) ! You need to dip it in the vinegar sauce to lessen the kalansahan :)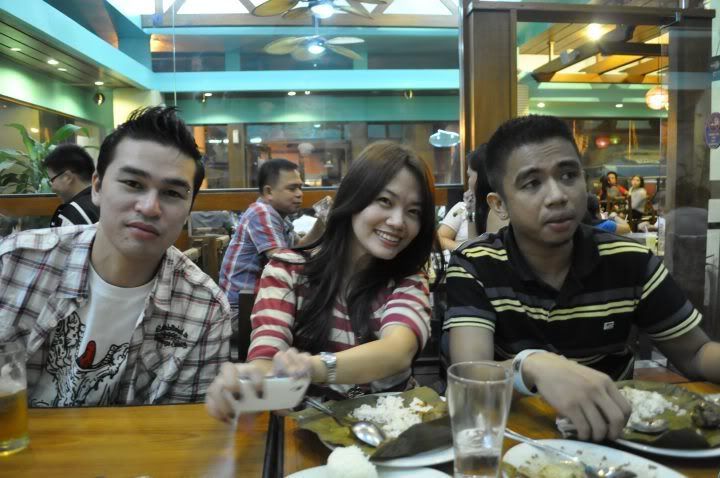 That's us still waiting for our other dishes!
My Rating for Blackbeard's Seafood Island
(Araneta Center)
(5
★ is the highest)
Taste
★
★
★
(acceptable taste)
Price
★
★
★
(a meal costs 100.00

php

and up)
Place
★
★
★
(marine themed, restrooms are clean and tidy)
Staff
★
★
(impolite and mabagal)